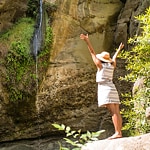 Taking a roadtrip by vehicle is an affordable way to enjoy a vacation. Having a private vehicle enables adventurers the chance to see what they want, when and where they want according to their schedule. Making the most out of a road trip requires adhering to some safety tips.
Have the fluid levels and tires checked along with engine hoses, windshield wiper blades, brakes, lights and other vital components before starting on the journey.
Make sure the vehicle has an emergency road kit and a first aid kit. Consider taking snacks and water in the event of becoming stranded. Have charging cords to keep smartphones powered. Make sure to tell someone your itinerary.
Plan stops along the way to avoid becoming to sleepy and drowsy behind the wheel. If the trip has more than one driver, take turns to prevent fatigue.
Drivers must avoid distractions that might encourage taking their eyes from the road. Assign others for map reading and radio management.