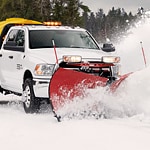 Whether you need a heavy duty truck for frequent job completion or rely on a pickup to haul trailers to your farm, the RAM 3500 has you covered. Bold and brawny enough for heavy hauling, the RAM 3500 provides practical and durable performance and towing solutions.
With three different engine options, you can choose the RAM 3500 powertrain that best meets your needs. Whether you enjoy the refinement of the 6.4-liter HEMI V8 or enjoy the raw power of the 6.7-liter High-Output Cummins Turbo Diesel, the choice is ultimately yours to make.
If you opt for the most advanced Cummins Turbo Diesel, the RAM 3500 can tow up to 37,100 pounds with this powertrain configuration from a gooseneck hitch. It can also produce up to 420 horsepower and put out 1,075 lb.-ft. of torque. The standard 6.7-liter Cummins Turbo Diesel is a bit more responsive and efficient for those who do not need an extensive amount of power.